5 Secrets to Choosing Tile
7 min read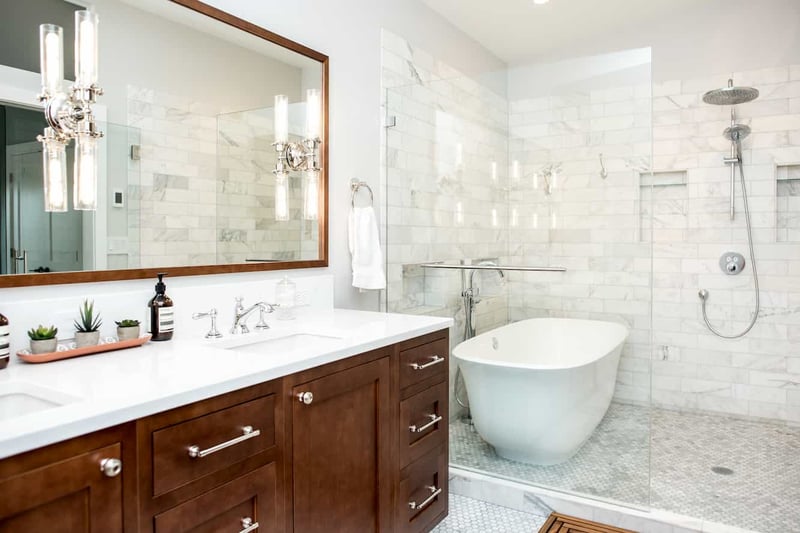 Wedgewood Whole-House Remodel
Selecting tile for your remodel can seem like an overwhelming and daunting task since there are thousands of tile options. There are a few concepts that our designers use to pick the perfect tile pattern. Whether it is for your kitchen or bathroom renovation, or really any part of your home, the process of picking tile is the same. If you don't have a design background, some of these considerations will likely be new to you, but I guarantee you'll be glad you thought about them before your grout dries. You definitely don't want to make the wrong tile choice. Now let's get to work!
When deciding what tile to use in your new space, there are many considerations to look at before making a final decision. At CRD Design Build, we start with three major features: function, aesthetics, and cost.
The function of a tile is determined by where the tile is going to be installed and on the floor or wall and if it is going to be installed in a wet area, high foot traffic area, shower, etc. Essentially all tiles that are floor-rated can go on a wall but tiles that are rated wall-only are not able to go on the floor. It is important to know the exact use of the tile before deciding if it will function in your space well.

The aesthetics of the tile is also important to determine before selecting out a tile. Do you want the tile to be the main focal point of the room or area? Do you want to choose an accent tile or a neutral tile? Tile is more permanent than other parts of a remodel such as paint. For example, it is easier to repaint a bathroom wall than it would be to reinstall bathroom tile.

The cost of tile is important to nail down before you start searching because the cost can range from $2 a square foot to $25+ a square foot depending on the material of the tile, like if it is a porcelain or ceramic tile vs a natural stone, or the shape and size of the tile. We will dive more into the topic of the cost of a tile below.
Each project and client is different, so there is always a different path forward when selecting tile. Once you narrow down each of the three factors above, we can get to the fun part—pattern and layout. After reading our tips below, don't forget to check out the look-book at the bottom of this blog.
1. Choose the right scale and pattern
It is important to choose the right tile for your space that will add interest to your space and matches your overall style. Typically we recommend adding geometric patterns using any tile size from a 1″ mosaic to a large subway tile depending on what kind of other design elements you want to add to your space. It is important if your pattern involves rotating tiles, like a basket-weave or herringbone pattern, we'll need to make sure the grout lines meet up for a perfect installation.
Here are a few examples of different tile patterns:
Herringbone: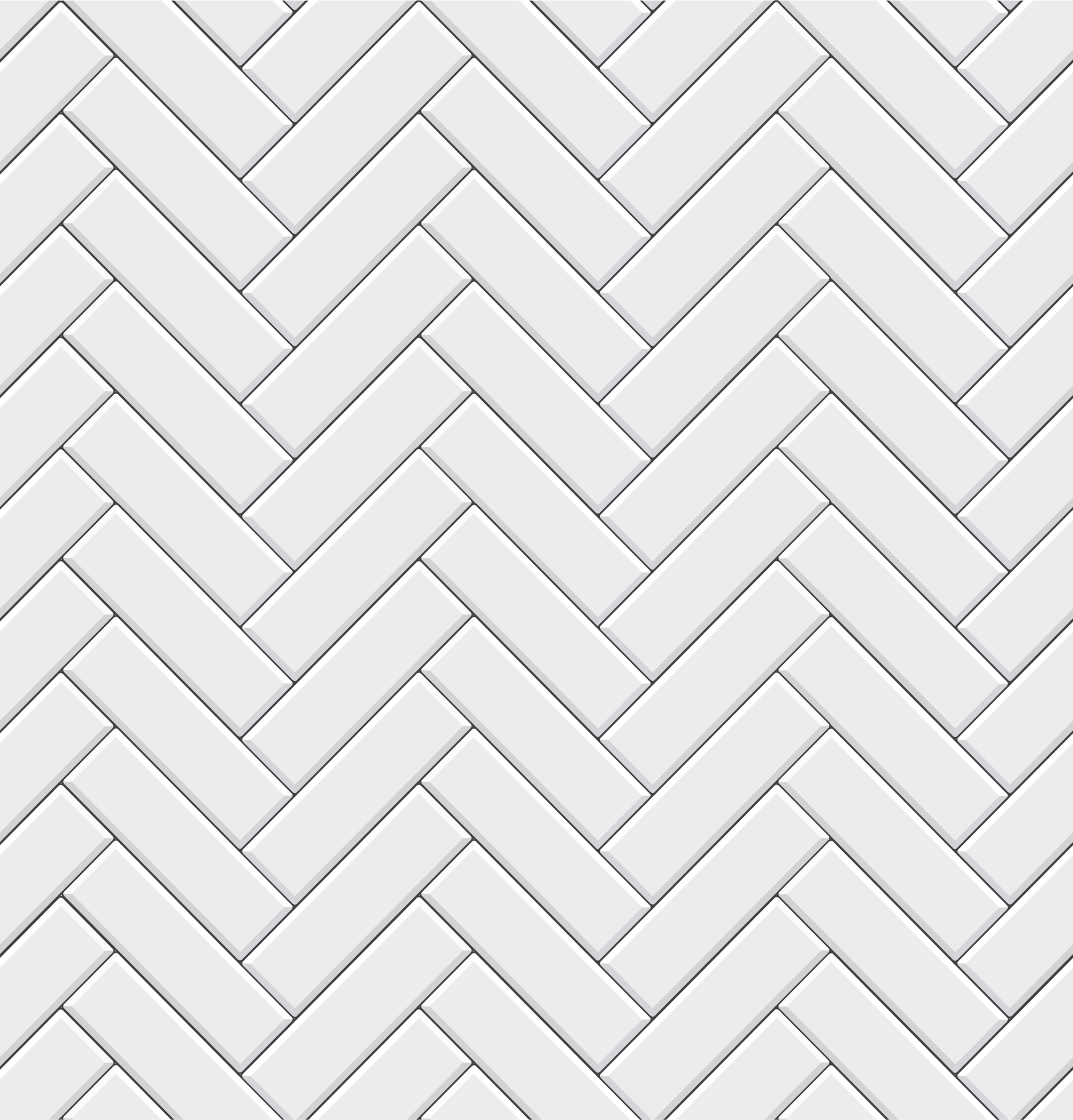 Basket-weave:
Running Bond: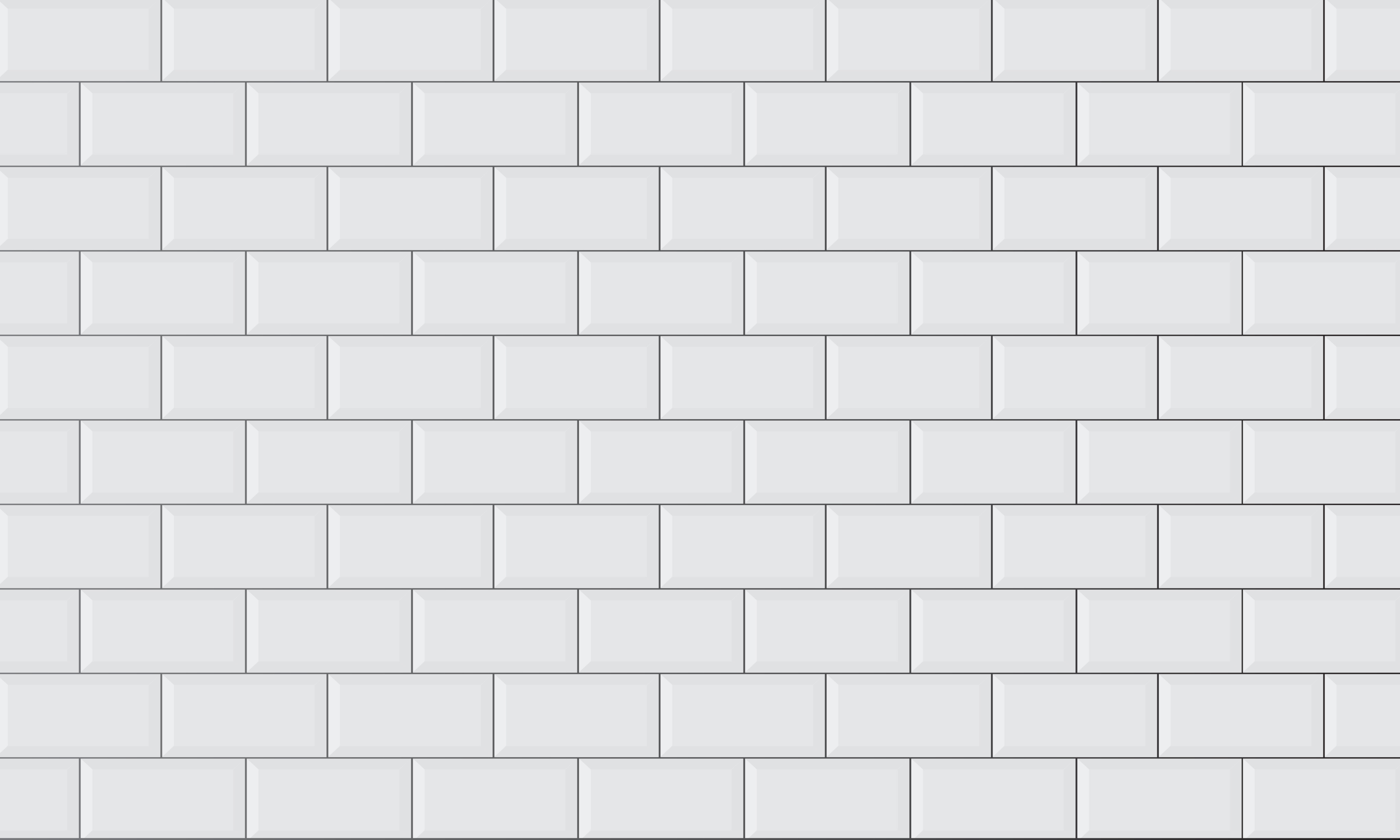 Stacked Horizontal or Vertical:

It is also important to pick a pattern that fits properly in your space. For example, most kitchen walls do not have a lot of space for a large backsplash tile install. In this case, we would recommend you select tiles that are smaller so the pattern can be repeated in a small space, or choose one large patterned tile and surround the patterned tile with tiles that match the rest of your color scheme.
2. Align your pattern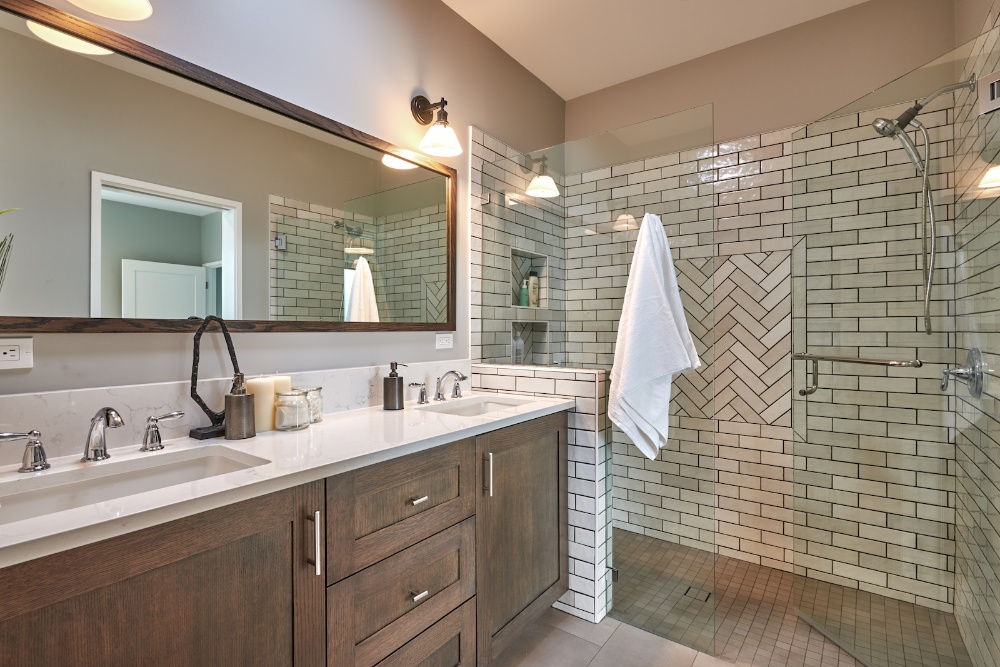 Carkeek Park Second-Story Addition & Basement Remodel
Where do we want the pattern to start? Usually, the center line of the pattern will align with a major element in the backsplash, like the range or sink. We look at how the whole installation will work and decide the best spot based on the other design elements.
In the above primary suite bathroom, we installed a brick layout for 90% of the shower and a herringbone pattern in the center of the wall to add interest. 
To see more examples view our look-book at the bottom of this blog.
3. Vary color or texture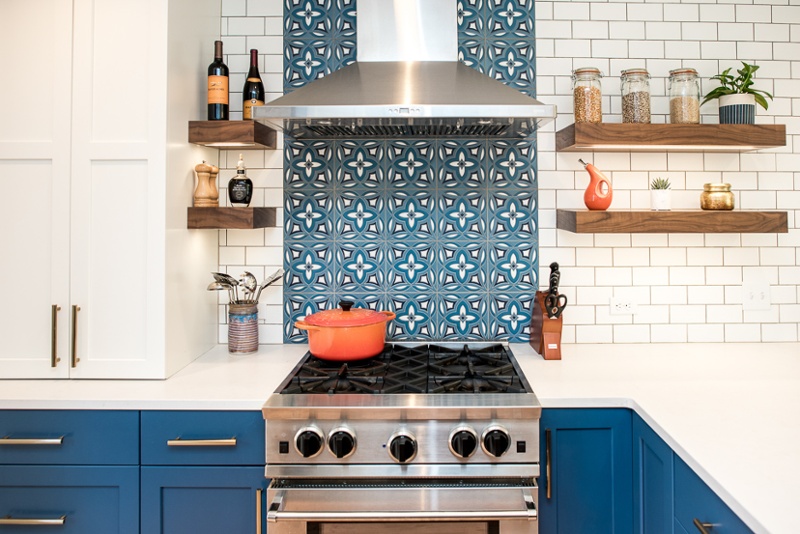 Bryant Whole-House Remodel
Varying colors and/or textures are an excellent way to add interest without becoming too overwhelming to look at. There are some beautiful tile installations using a mix of two different tile finishes, such as glossy and matte tiles in the same color to provide a subtle texture change without being obvious. If you want to create a bolder statement we recommend selecting a bright color tile or patterned as your main tile and a neutral-colored tile as the accent tile as seen in the above installation. 
Don't forget the grout! Grout color can add a big element to a simple pattern. Grout is available in multiple colors from simple white to black to brown and all colors in between. A popular use of black grout is to use it with white tile in a brick pattern. Another fun design choice is to choose a colorful tile and use white grout to let the color of the tile stand out.
4. Don't let waste catch you by surprise
Waste can become an issue with certain patterns, like chevron and herringbone. Any time tile must be cut, there is a waste. We factor this amount into the cost of the installation so that it's not a surprise for our clients, but we are also aware that it impacts their budget. If you choose a pattern that requires cutting, make sure you calculate how much tile is needed including all the cuts to be sure you order enough tile to account for the waste.
One way to limit waste is to choose the walls you tile based on your pattern. For example, there will be less waste if you choose to tile a full accent wall in a small bathroom or full shower walls vs a wall that has a vanity that requires additional cuts. Tile patterns that require cuts, such as a herringbone pattern, are easier to install on a blank wall rather than on a kitchen or bathroom backsplash where the installer has to cut around extra corners on mirrors, cabinets, light fixtures, etc.
5. Cost
Cost is a no-brainer. We know our clients have specific goals for their projects and sticking to a budget is usually one of them. With an exciting pattern, cost-effective tiles can be just as design-forward as expensive tiles. But don't sell your project short. There are many expensive-looking tiles out there that won't break the bank, so have an open mind when researching. For instance, this textile-inspired Italian tile from Mutina looks super spendy but is actually quite reasonable as an accent. If you are sold on an expensive tile you can choose to do it as a small focal point or accent tile so you are only purchasing a small amount of the specialty tile and surrounding the rest of the area with a cost-effective tile.
Besides the initial cost of the tile installation, you will also want to look at the cost to maintain the tile you have chosen over time. Most man-made materials such as ceramic and porcelain tiles do not require sealing after installation which makes them easy to clean and maintain. But if you want to have true natural stone tiles installed you will need to keep in mind these require more maintenance which adds to the cost over time. Luckily with technology nowadays you are able to get a very realistic natural stone look tile made out of porcelain or ceramic tile, especially for marble and travertine looks.
5. Select Tile in Person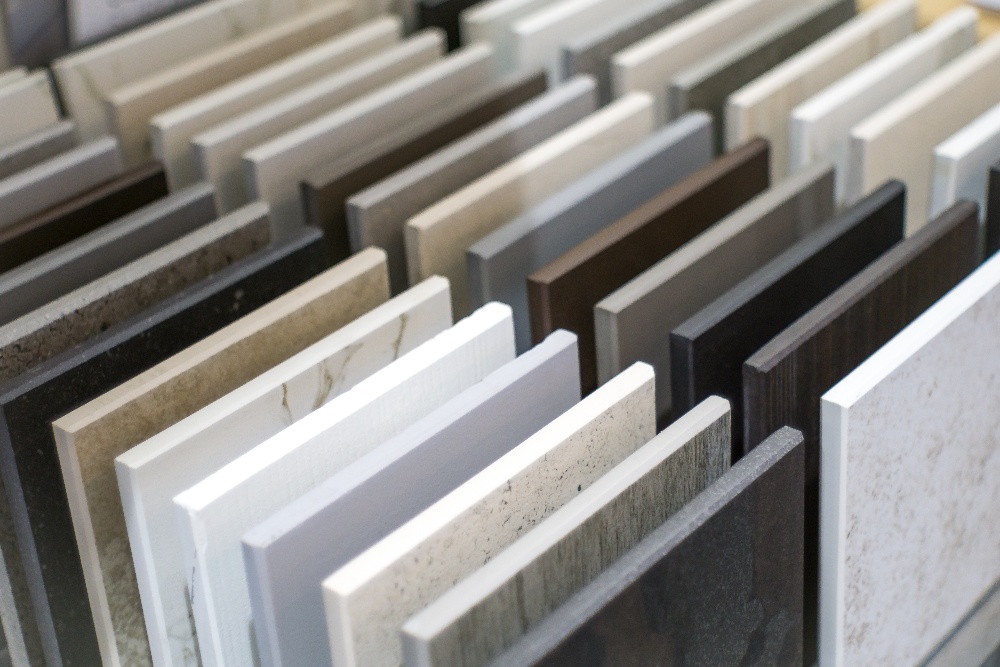 Now that you know a few of our secrets to choosing tile like an expert, it's time for the fun part. Get out there and start shopping for tile! You can always go online to sites like Houzz and Pinterest to get some inspiration for what kind of tiles you are wanting to help generate some ideas but personally, we like to be able to see and hold the tile in our own hands before making a decision. You'll be surprised by how different tiles look online vs in person.
We always recommend asking for a sample of the tile you have chosen to see it in different lighting and in your own space. The tile color outside of a showroom can also make a big difference in whether you end up selecting that particular tile or not.
Our favorite suppliers
Art Tile
8511 Roosevelt Way NE
Seattle, WA 98115
206-284-2281
www.arttileco.net
Seattle Tile Company
7716 15th Avenue NW
Seattle, WA 98117
206-782-1985
www.seattletilecompany.com
United Tile
750 South Michigan Street
Seattle, WA 98108
425-251-5290
www.unitedtile.com
Pental Surfaces
713 South Fidalgo Street
Seattle, WA 98108
206-768-3200
www.pentalonline.com
Daltile
6020 6th Avenue South
Seattle, WA 98108
206-763-3004
www.daltile.com
Tile With Style
Any of the above showrooms will be happy to help you explore your tile choices, from ceramic tile to porcelain tile to natural stone, that'll match your overall style. Our design team here at CRD also loves guiding clients through the process of selecting tiles, grout, and accessories for kitchen and bath remodels, big and small. Our team will also help coordinate other aspects such as choosing a paint color for your room, cabinetry, and more. To learn more about our design-build process give us a call at 206-782-6959 or fill out our online contact form.