A Trash Bag Sofa, a Big Hairy Chandelier, and More Tactile Treasures From Design Miami 2022
4 min read
During Miami Art Week, the beachside city is overrun with art fairs with aisles upon aisles of seemingly anonymous white booths. Design Miami, however, is a rare exception; gallerists approach the fair like an interior design project, filling their booths with lush textures and colors. This year was full of excellent surprises, including ceramicist Robert Lugo's bodega storefront; fair sponsor Dobel Tequila's lounge of architect Ricardo Legorreta's Vallarta furniture; and Italian manufacturer Gufram's unexpected collaborator, hip hop star A$AP Rocky. Below is our list of booths with the best interior design—the ones that grabbed our attention, told compelling stories, and made us never want to leave.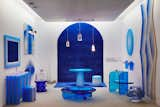 Gallery founders Satu and Celeste Greenberg won the fair's best booth design award, and it's easy to see why. They asked their designers—Facture by Quincy Ellis, Ian Alistair Cochran, Jt. Pfeiffer and Yonathan Moore—to work within a specific palette of blues, and the resulting resin furniture, wool rugs, and pendant lighting come together in a monochromatic, decidedly sci-fi space that's both harmoniously composed and deeply conceptual. The idea, according to Satu, was to show how a single color can evoke a range of moods with simple variations in texture, saturation, and opacity. "We want to make a statement every time we show at a fair so that people don't forget us," she added. She and the rest of the gallery staff wore matching sky-blue jumpsuits, adding an element of performance to the overall sci-fi vibe.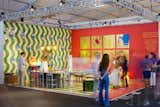 The Mexico City gallery assembled a kaleidoscopic living room using a cross-section of their designers: a sofa handmade by Ryan Belli, a mosaic coffee table by Fabien Capello, and more. The showstopper, however, is Capello's wall of colorful, wavy custom tiles by Cerámica Suro, a Guadalajara factory formerly known for its dinnerware and decorative objects that's recently reinvented itself with contemporary artist and designer collaborations. He was inspired by the colors of Mexican markets, and in a room of distinctly kooky patterns and color combinations, everything works together surprisingly well. "We really designed around the mosaic tiles," said gallery director José Antonio Sandoval. "Instead of making a showroom, we wanted to create a space where you imagine all these different designers' voices and materials living together."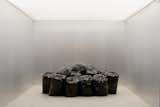 Harry Nuriev's aptly named Trash Bag Sofa is fairly straightforward—it looks like a pile of garbage, only the bags are made of black spandex in a luxurious sheen. "The inspiration came from trash bags on the streets of New York City," the Russian designer and architect posted to Instagram, but the presentation feels more intellectually substantial than that. Walled in by metal panels and capped with a luminous ceiling of beautifully white, even light, Nuriev's austere booth feels more like knowing satire. It evokes the edgiest trends from two of high fashion's bad actors, Yeezy and Balenciaga, and the fictional Derelicte campaign of Zoolander.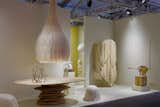 For the winner of the fair's Best Gallery Presentation award, the star is an enormous Angela Damman chandelier paired with Fernando Laposse stools around the Christopher Kurtz tulipwood dining table. The chandelier and stools, made from plant fibers, look like groovy platinum-blonde wigs. Adhering to a simple palette of airy beiges and creams, "I wanted to create something that was very serene and tranquil," said Myerscough, who adhered to a simple palette of airy beiges and creams, but placed more emphasis on dramatic textures and the process to create them. Another stunner, Kurtz's tulipwood cabinet that he spent 600 hours carving by hand to give it its melting effect.
With its rich palette of blacks and bronzes, and formidable pieces made of natural, weighty materials, New York gallerist Melanie Courbet's booth can be summed up in a word: luxurious. The very international selection also feels expertly curated, with highlights that include the enormous black Eros Brut table, carved out of a single ash tree trunk by Moroccan sculptor Hamza Kadiri, and Michel Amar's Jules suspension lamps, made of black patinated bronze and volterra alabaster. No detail was spared; she even did the floors. The custom wooden tiles underfoot are tree scraps upcycled by Raphael Navot and Oscan Ono.
Editor's Note: a previous version of this article stated the trash bags were made of leather, but they are actually made of spandex.
Related Reading:
Our Favorite Forward-Looking Designs From Salone del Mobile 2022