Japanese Style Interior Design
5 min read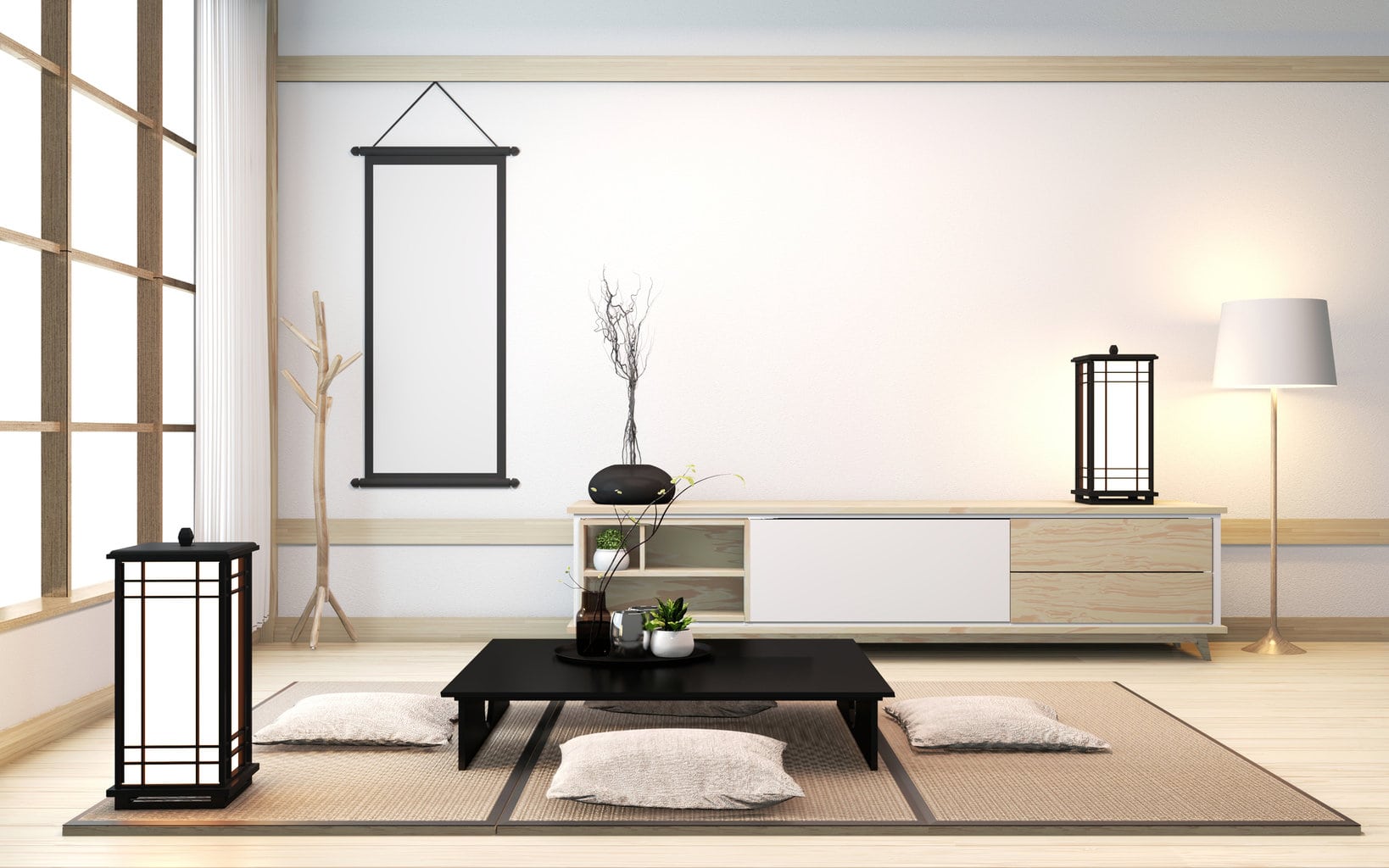 Those who like simple and neatly structured spaces with the addition of small furniture would love the Japanese interior design style (also known as Japandi) as it is a kind of ethnic trend.  It has a rebranded color mixture and laconic forms with a warehouse of natural materials and Ikebanas (flower arrangements).
Designing an apartment begins with many things, one of which is the selection of color themes.  The Japanese style is inspired by nature, and they mostly use light tones such as milk, cream, and light beige, and these colors stand out on walls, fabrics, and furniture. 
This does not need much work; all you have to do is strictly follow the correct color theme when choosing furniture and you could easily attain that. Note that all surfaces in the apartment must be smooth.  Some Japanese style room suggestions include the use of vintage materials, bamboo sliding doors, a mixture of wood, glass, and metals, natural wood (must be necessary if you have to use it), and Japanese style ceilings (either square or rectangular). Combining these elements might seem like a hard task, but Japandi style is now easier than ever with the unique Japandi interior design course that our partners from Home Design Institute offer. 
Japanese Style Lightings
This style of lighting is of the utmost importance.  There are distinct kinds of Japanese lighting that can create a serene and comfortable aura in a room in the spirit of zen philosophy.  If you are to channel your attention to ceiling lights below the "shoji," you would discover that they are modern, wrapped with paper mixed with cellulose and polyester, making them durable.  Bamboo table lamps and tatami lamps are suitable for creating diffused lighting.
You can also consider pendant lights as they are ideal for any space.  Before now, they were made of copper and had 4-6 sides.  But in the present day, these Japanese-style lamps and chandeliers are made of paper, glue, and Bamboo, and they are primarily placed in adequately lighted corridors.
Japanese style house
Most houses are usually compact.  Privacy, protection from elements, and nearness to nature are prominent features of traditional dwellings.  Some people who live in the city find it difficult to afford homes, and this is because the land is limited in the country.  Traditional elements are present in Japanese apartments, including a staircase entry and a jacuzzi.  You might wonder what the interior would look like, and it usually has one room with a tatami lamp.
Bedroom
If you want to start designing your bedroom, it is advisable to start from the floor, and with time, you will move up.  Also, if you want to choose a cover for your floor, Mat-tatami is the ideal cover for you.  If the tatami is insufficient to spread over the entire floor, you can spread a small tatami mat directly after the bed.  These traditional tatami mats are made of rice straws, and you can walk without shoes on them with ease.
A Japanese-style bed should be very low for a themed room as furniture applied in eastern culture has low legs.  Rather than using a bed, you can easily place a mattress on the floor, but if you must use a bed, finish it up with Bamboo and add a simple lacquered chest of drawers close to the floor.
Avoid contesting space. Remember that every furniture material in the bedroom should be functional when choosing furniture.  Only the requisite decoration items should be left because the Japanese interior bedroom style has no room for overcrowding.
You can use natural materials, such as bamboo, rice paper, and wood to decorate the room the way you deem fit.  You can also bring in silk curtains into the bedroom; you can hang silk pillows on the bed and chairs, pictures of nature or flowers, and rice paper lamps on the ceiling to enhance the originality of the room.  Adding some plants would also make the home feel calmer and more natural.  All these elements help to make the room comfortable and creative.
 Japanese Kitchen
You can hardly subject the interior design of the Japanese-style kitchen to one feeling or look.  It can be spacious and empty, warm and comfortable, small and busy, and the like. But, it would be best if you made it as attractive and cozy as possible. You might want to consider these few things about the decoration. They include: cotton curtains, mats for seats or tables, chinaware, and Japanese style dishes, e.g., tea sets and plates, Rice paper shades, and a flower vase with bamboo. Gentle light is the most suitable for a Japanese styled home, so one of the best decision is table lamp. 
Japanese Style of Furniture
The Japanese love pieces of furniture made with luxury materials and designs to be sitting on low legs.  Your furniture should be contrasting and comfortable, e.g., lacquered wood. The furniture situated on low legs could be a low brown table or even soft pillows and ottomans placed on the floor for sitting.
Living Room in Japanese Style
Japandi uses mostly simple, elaborate, and minimal, so there should be no room for unnecessary designs like figurines, too many paint designs, photographs, painted images, or glass decors in the living room.  If you choose not to paint, you can purchase bright and pure colors like cream and white with the Japanese style or get something natural.  Note that the walls must be bright, so you must be careful when choosing paint colors.
You can add some other sophisticated details to the Japanese interior living room.  Some of these are; curtains of distinct pictures, images of sakura branches, bonsai, traditional plants, katana sword, and a few inscriptions from hieroglyphs.
You might consider using bamboo or laminate flooring when covering your living room floor.  They last long, are very easy to clean and are not affected by temperature. 
Japanese Style Bathroom
You might be wondering what a Japanese-style bathroom looks like.  There is an area you can dress in, and it is restricted by either a screen or a partition.  The traditional bath is an Ofuro, a deep bowl hidden in the floor.  And this Ofuro is made From natural wood.  It would help if you considered taking a shower before going into the bath as it is located separately. 
You might want to make an oriental interior in a small bathroom, and with the assistance of ceramic tiles and panes, you can start applying stylishly.  Light and serene tones can also be used. Learn more about the Japanese interior styling by grabbing this course.
Japandi design has been a popular style that combines two of the most sought-after trends in the fashion industry. For those who want to create a simple, neutral, and peaceful environment, that feels modern, this is the ideal way to combine the two.
Smooth, contemporary lines, utilitarian design, and a plethora of textures distinguish the Japanese look from any other in the world.