Proof that it's Possible to Match LVP to Your Hardwood Floors
4 min read
Until now, I didn't think it was possible to match new LVP (luxury vinyl plank) flooring to your existing hardwood floors. But, my mind has been changed! Here's a a really good example of a vinyl floor that looks so close to the existing old hardwood floors.
Plus, I have another example of what NOT to do if you have existing hardwood floors in your home.
Here's a view from the vacation rental we've been staying at outside of Nelson, BC.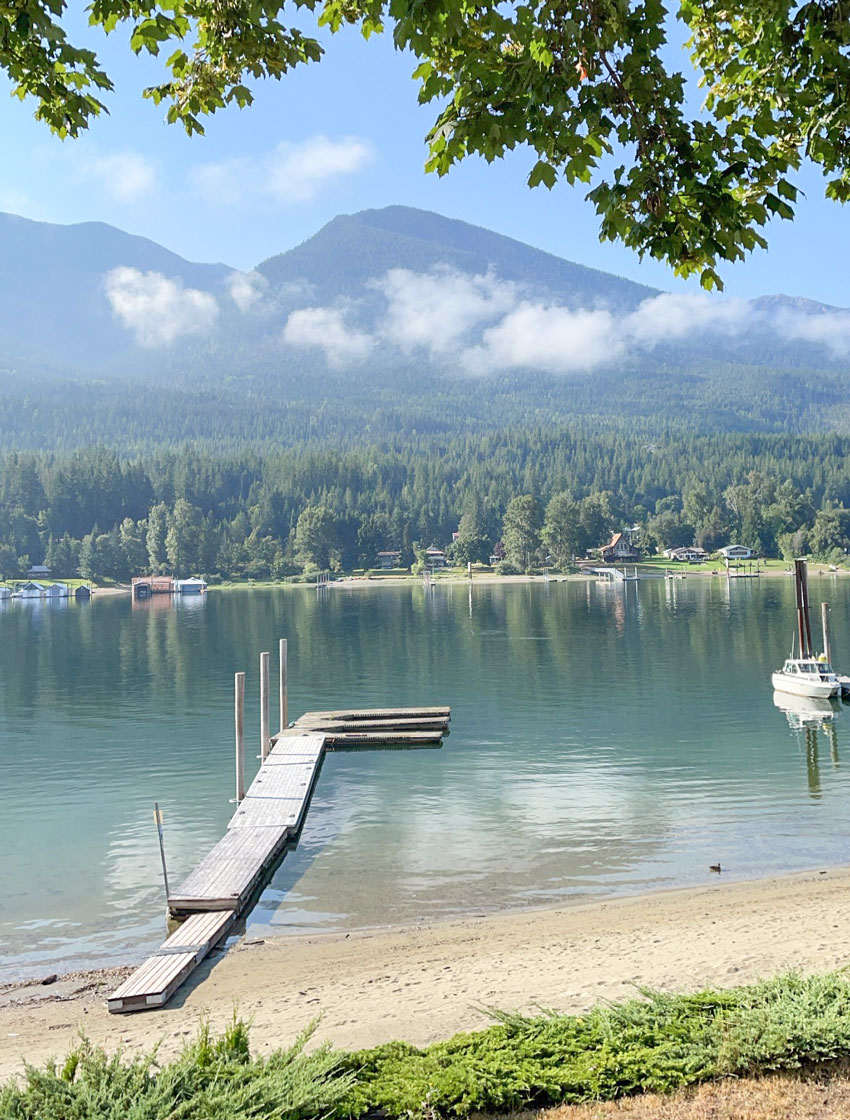 Can you match vinyl to existing hardwood floors?
My opinion on whether you should EVER match new 8″ vinyl flooring (LVP) to existing 3″ old hardwood floors has been pretty much a hard NO.
There are too many bad flooring transitions out there that have swayed my opinion heavily from ever recommending this as an option. #IYKYK
That is, until I arrived at this vacation rental this summer.
However, in this home, the old fir hardwood floors from the bedrooms and hallways connected so well to the brand new LVP in the kitchen and living room that I didn't notice they were different until the next day after we'd arrived. 
I know, THE NEXT DAY. 
I can hardly believe it myself, but it's true. And here is a closer look at the floors:
Here's a better view of both of them:
What makes this LVP and hardwood floor combination look good?
Here's why I think this works so well. This particular style blends together so well, that you don't immediately notice that the planks are wide. I think the graining pattern and colour are so close – which is what your goal should be if you need to replace floors adjacent to your existing hardwood.
I mean you really have to look close, actually.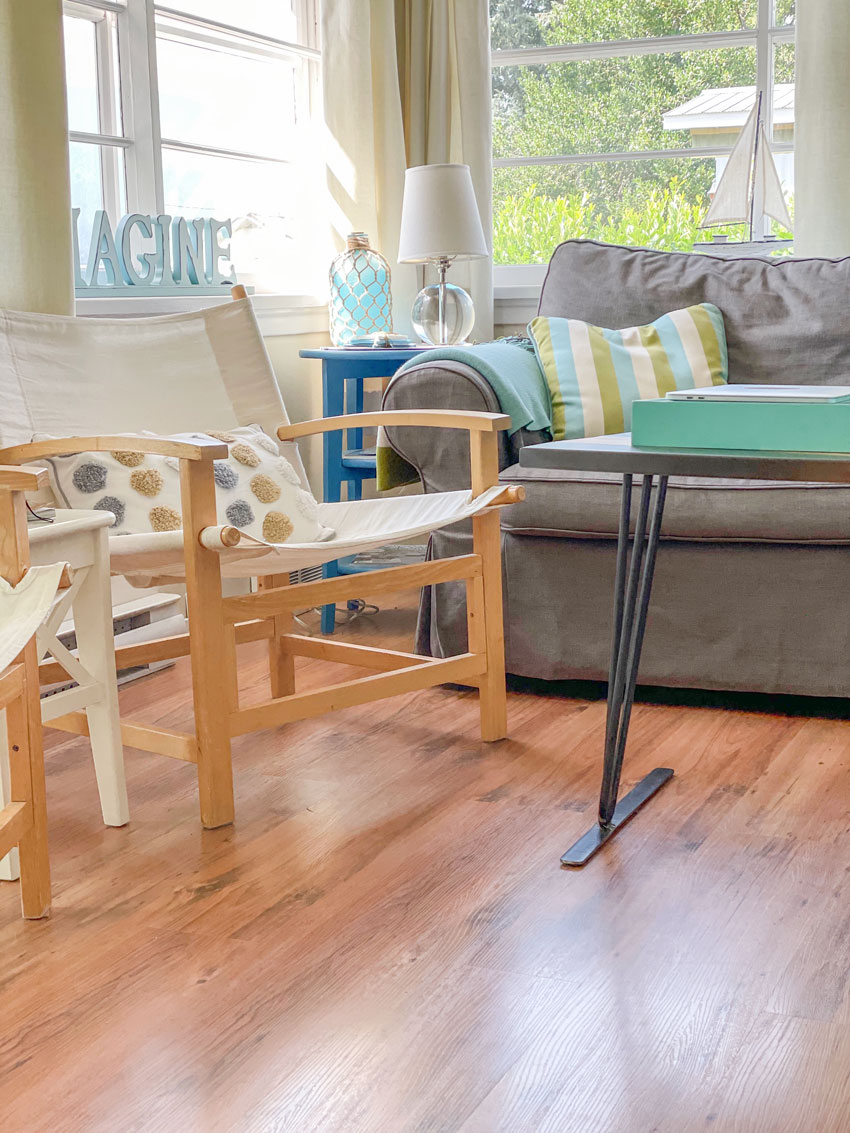 By the way, yes that is one of the lamps I brought so the evening would have atmosphere (I always bring three) 
So there you have it kids. I had to see it to believe it, but if the homeowner who renovated this vacation rental can do it, then so can you.
And that's why I wanted to share this with you.
Maybe you have existing hardwood floors, but either can't find a match in engineered or hardwood, or you don't want the added expense of installing a matching hardwood.
And let's face it, LVP is what everyone is choosing these days. 
Making careful design decisions now, means happiness later
I was watching a story on Instagram the other day of a homeowner who was choosing marble countertops for her kitchen and this is what she said:
"So, was it trouble lugging two bags of heavy marble into the marble store? Yes! Making home decisions is always trouble. But I'd rather have the trouble on the front end before I make the decision, to help me make the decision; than trouble on the back end of trying to make a bad decision look good in my house once I've committed to it. "
So, my story doesn't end here. When the next homeowner bought this house (which has two suites in it, one for the homeowner and one the rental which was fully decorated) the entry flooring needed to be replaced and this is what they chose:
The vacation rental is a 10, but they added grey farmhouse floors. 😉
Because this is part of the entry (and also probably why I didn't notice the transition between the hallway and the living room)  I immediately noted that this shouldn't have happened. Of course, because the rest of the flooring was the same orange wood tone, well I simply didn't notice until the next day.
Whenever you are adding new to old, you must keep this mantra in mind if you care about how it all looks (and I know YOU do because you're reading this):
"Will this look like it was all installed at the same time?"
If the answer is no, then keep looking for the best, possible option.
I talk about this in my Specify Colour with Confidence course, where I call this Avoiding Yesterday & Today. When you're adding old to new, it's rare that things will ever look exactly perfect. BUT, you can certainly work really hard to make sure that the only person who will ever notice is YOU.
I can fill in the blanks on how to do this for your home and help you establish a cohesive, long-term plan for your renovation or new build. Enroll today.
So, before you come home with whatever your nearest big box store has in stock, consider waiting (if you must and especially now). Because trouble now is better than trouble later (after the flooring is installed and you realize you made a mistake).
Also, if you have a new build and need to know what my timeless flooring choices would be, you can purchase my Timeless wood flooring guide here.
PS. Here's Lucy and I out and about:
Related posts:
First Rule of Design: Boring Now Equals Timeless Later
Second Rule of Design: Waiting Now Equals Beautiful Later
Third Rule of Design: Expensive Does Not Equal Timeless