Tips for Hazard-Free Holidays – Home Improvement Blogs
4 min read
(BPT) – The holiday season is just around the corner, which means it's time to start making memories in the kitchen with your loved ones. Whether you plan on preparing a few family favorites or attempting an entire multi-course meal, it's important to be mindful of kitchen fire safety. According to the National Fire Protection Association (NFPA), three times the number of home fires occur on Thanksgiving Day than any other day — with Christmas Eve and Christmas Day close behind.
First Alert, now part of Resideo Technologies, Inc., and First Alert brand ambassador Eva Longoria provide these kitchen fire safety tips to help keep you and your loved ones safe this upcoming holiday season:
1. Equip Your Home
The first step in helping to create a safer home is taking the time to ensure you have working smoke alarms throughout your home. According to the NFPA, three out of every five home fire deaths occur in homes without properly working smoke alarms, or no alarms at all.
"We all lead busy lives, but it's essential that people understand how to protect themselves from the dangers of fire and CO poisoning," explained Longoria, who has teamed up with First Alert to encourage families to install proper protection, discuss whole home safety and develop their own fire safety plans.
The NFPA recommends that smoke alarms be installed on every level of your home, including the basement, and inside every bedroom. Smoke alarms should be installed high on walls and ceilings and at least 10 feet away from appliances to help minimize false alarms when cooking.
Once alarms are installed, maintenance is key. Testing alarms takes mere moments and is simple as pressing a button and waiting for a beep. You should test alarms regularly and replace alarm batteries at least every six months. To help eliminate late-night battery chirps and battery replacements for a decade, upgrade to First Alert 10-Year Sealed Battery Smoke & Carbon Monoxide Alarms.
2. Keep Cooking Spaces Free of Clutter
With lots of extra helping hands in the kitchen during the holidays, it's important to ensure that the cooking area is free of any clutter to help avoid any mishaps. Be sure to keep any flammable items — like oven mitts, potholders, plastic or paper bags, and food packaging — away from any kitchen appliance that generates heat. Make a habit of regularly cleaning cooking surfaces to prevent grease buildup since grease is highly flammable and will increase the risk of igniting a fire. It's also important to be mindful of the clothes you're wearing. Avoid loose-fitting items and dangling sleeves that could potentially catch fire.
3. Don't Leave Cooking Unattended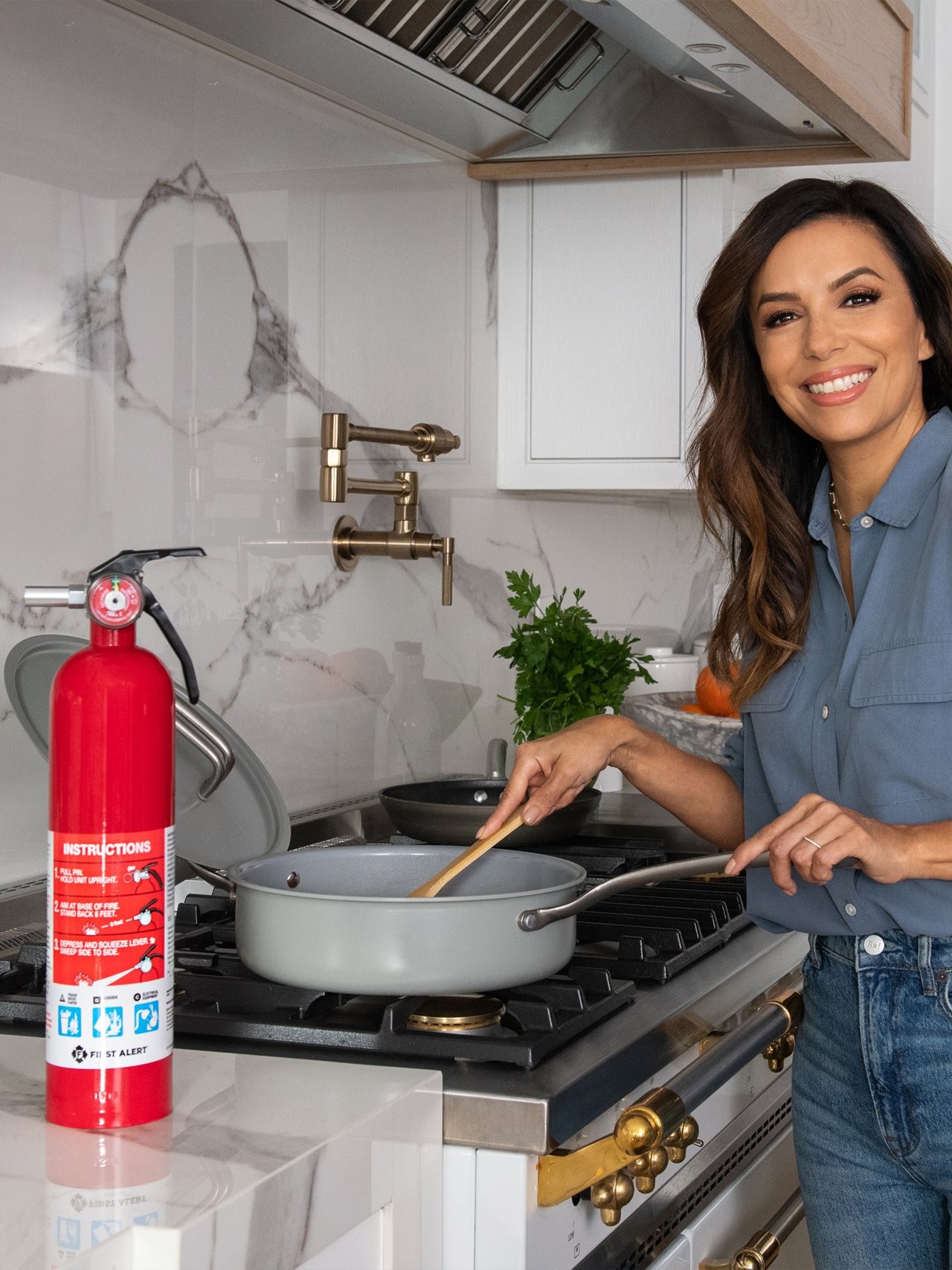 With all the holiday cooking coupled with the extra commotion, multitasking in the kitchen is unavoidable. Although you may be able to multitask, you should never leave food that is frying, cooking or grilling unattended. According to the NFPA, unattended cooking is the number one cause of home fires in the U.S. If you must step away, turn off the stove or ask another adult to keep watch for you. Check on food in the oven frequently and set a timer to remind yourself that the stove or oven is still on. You should also avoid using the stove if you're under the influence or are feeling tired.
4. Keep Children Away from Stovetops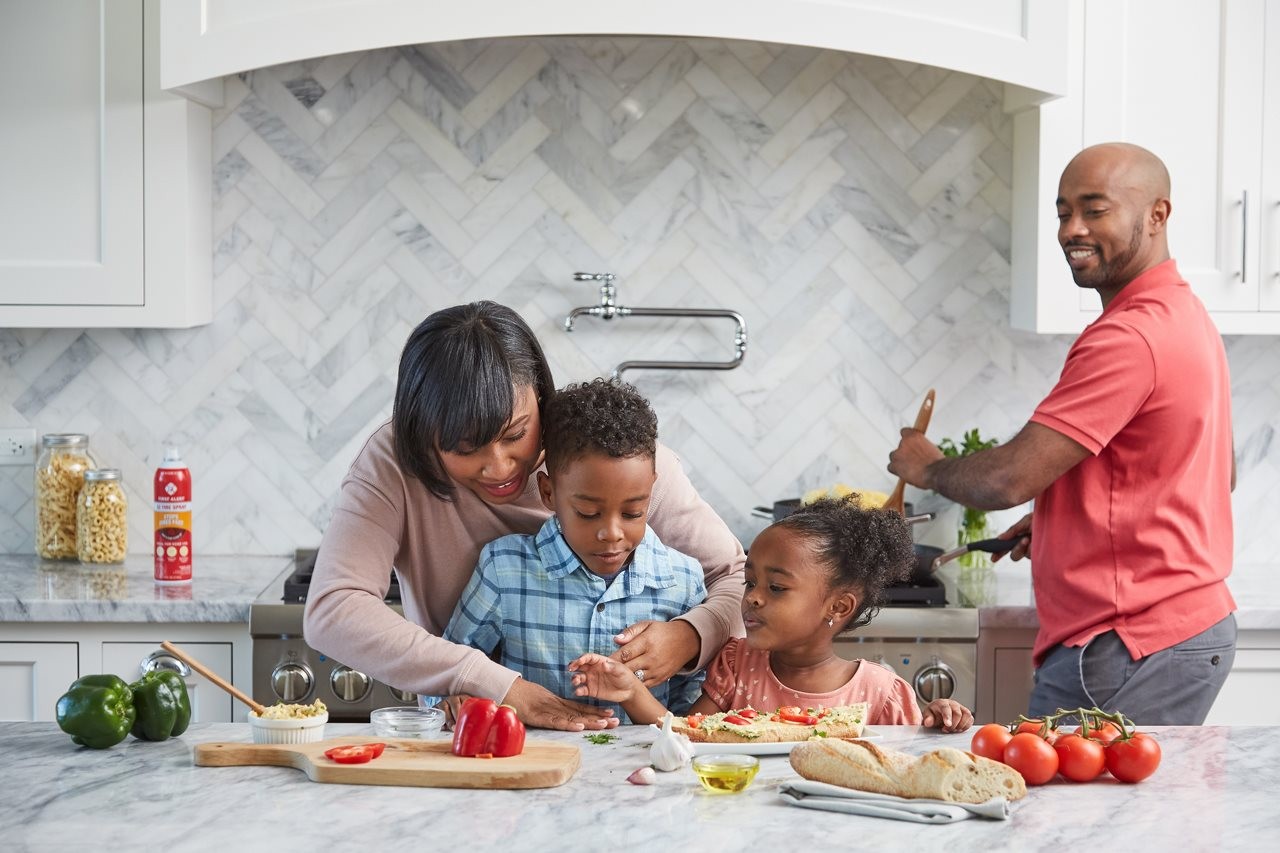 From scalding liquids to dangling electric cords, there are many dangerous things a child can snatch from the kitchen counter. Maintain a safe cooking environment for little ones by placing hazardous items toward the back of the counter and out of a child's reach. While the holidays call for all hands on deck in the kitchen, keep children at least three feet away from the stove while in use or cooking to avoid accidental scalds or burns.
Educate your little ones on home fire safety and foster conversations around keeping each other safe in an event of a fire — both during the holidays and year-round.
5. Have a Fire Extinguishing Device on Hand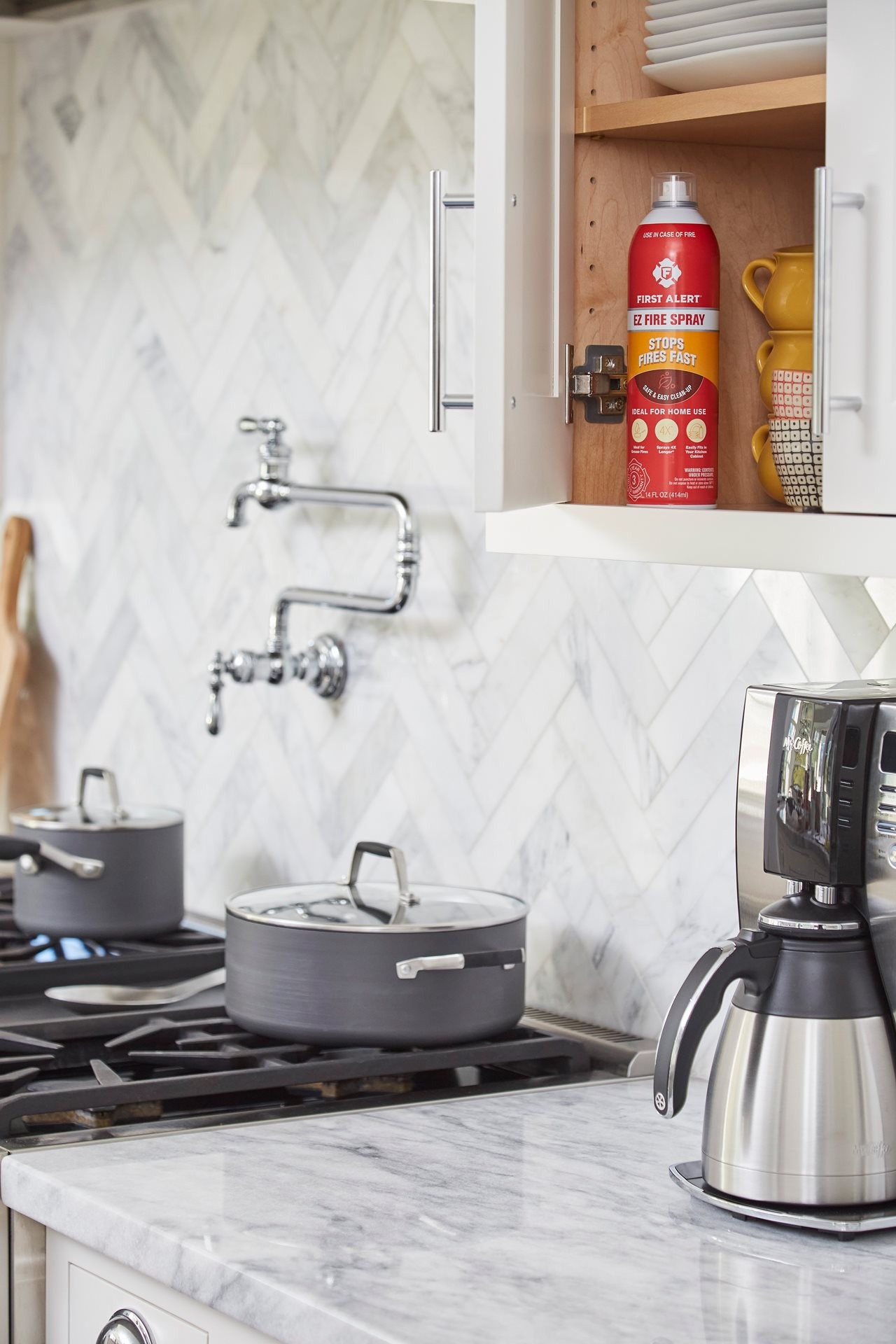 Since the kitchen is a busy and essential part of the household during the holidays, it's important to have proper precautions in place. The NFPA reports that ranges and cooktops were involved in 61 percent of kitchen fires, proving the importance of keeping a fire extinguishing device easily accessible to stop fires before they can spread.
For an easy-to-use alternative to a traditional fire extinguisher, have the First Alert EZ Fire Spray within reach. Its lightweight, spray-can design has no pins or levers, making it easy to hold, carry and use. Just point and spray to stop fires fast.
"Ensuring the kitchen is equipped with easy-to-use tools will help keep you one step ahead in fire safety," said Ashley Gocken, a First Alert safety expert with Resideo Technologies. "The EZ Fire Spray is easy to keep on the kitchen counter or in a nearby cabinet, and its small size also makes it convenient to stash away in key areas throughout the home, like the garage or basement."
For more tips on protecting the ones you love, visit FirstAlert.com.